Steel Structure Workshop: Your Strong, Reliable Partner in Productivity!
Customised Metal Workshop Buildings
Steel Structure Workshop is a metal workshop assembled using steel kits. Ideal for personal and professional use, it is an extremely robust and durable building that can effectively withstand harsh environments such as hurricanes and snow storms. And with a high degree of customisability, it can be designed in the way you need it. The steel workshop is pre-engineered and machined in the factory, and the finished kit is then delivered to its destination for bolting. This results in a significant reduction in both construction time and cost. Whatever your purpose,  KAFA as a specialist steel building general contractor, our team can create the perfect workspace for you!
The Unique Advantages Of Steel Workshops
High strength and durability
Steel workshops stand out for their exceptional high strength and unrivaled durability. Steel, the primary building material, has excellent tensile strength and rigidity, enabling steel shops to withstand significant vertical and horizontal loads. This means that in day-to-day operations, whether it's the operation of equipment or the heavy weight of stored materials, the steel workshop is as stable as can be.
In addition, the specially treated building materials provide excellent corrosion resistance, which keeps the steel workshop stable in adverse weather conditions and protects the equipment and materials inside the workshop. In the face of natural disasters, such as earthquakes, hurricanes, and other disasters, the steel structure workshop also shows excellent resistance to protect the continuous production. High strength and durability make steel workshops the preferred choice for industrial premises, safeguarding production and storage.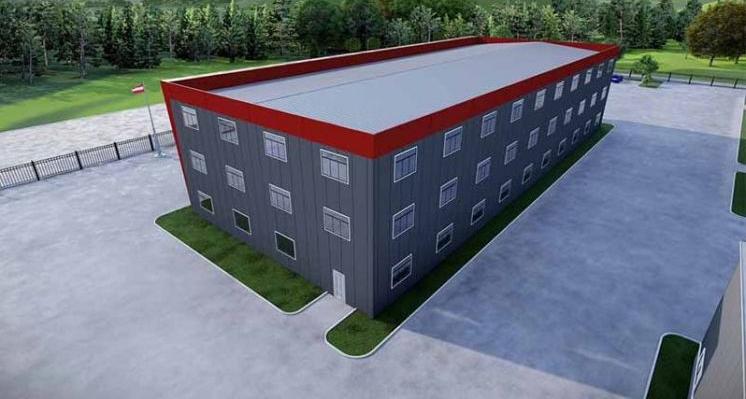 Flexibility and customizability
Steel workshops are uniquely flexible and customizable in their design and construction. Whether you need a spacious open space or to separate into different work areas, steel workshops can be customized to meet the needs of different industries and businesses. The design team can customize a structural solution that suits the client's business model and production process according to their specific requirements. This flexibility and customization not only enhance work efficiency but also provide enterprises with a production space that is more in line with their actual needs, thus maximizing production efficiency and enhancing their competitiveness.
Compared with traditional construction methods, steel structure workshops have obvious economic advantages. Firstly, its high construction efficiency, relatively low construction cost, and shortened construction period enable enterprises to put into production quickly and get a faster return on investment. Secondly, steel structures have low maintenance costs and are less susceptible to the natural environment, enabling companies to reduce their total cost of ownership, thus improving economic efficiency.
Unlimited Applications For Steel Workshops
Steel workshop buildings have a variety of uses and the ideal workshop building may have a variety of uses, including:
Bespoke Options For Workshop Buildings
After receiving your letter, our professional design team will provide you with a comfortable and safe metal workshop building based on your local climate change, geological type, maximum load-bearing capacity, light requirements, insulation performance and other factors.
1. Load-bearing design: When designing, we will comprehensively consider your lifting requirements, local snow thickness, rainfall, maintenance load and other factors, and select the corresponding frame system to improve the load-bearing performance and load-bearing wall. The thickness can meet your needs.
2. Daylighting requirements: Generally speaking, the area of ​​steel structure workshop is relatively large. Taking full advantage of electric lighting will increase your additional operating costs. Our studio added custom skylights and FRP daylighting panels to solve this problem. Of course, the size of the skylight can be freely chosen. When installing the skylight, we will also ensure the coordination between the skylight and the factory building, and the joints should be waterproof to ensure the seal of the workshop.
3. Moisture-proof treatment: For areas with a lot of rainfall, humidity is the main problem faced by many factories. Our metal structure design is filled with insulation cotton in the roof layer, and a waterproof membrane is added to the roof floor, and there are vents on the roof to ensure smooth steam removal.
4. Lightning protection treatment: You can consider whether the metal structure is safe under thunder and lightning weather? Yes, our designers considered this issue at the beginning of the design. The prefabricated metal building we designed is also equipped with a lightning protection device, which can smoothly guide the lightning to the ground and make the lightning pass through the workshop and into the room.
5. Drainage design: Drain pipes and sinks are installed on the roof to ensure the smooth drainage of rainwater, thereby improving the safety and practicability of the warehouse.
6. Sound insulation performance: The workshop is basically used as a production workshop, so the accompanying noise will be very loud, which will affect the surrounding work and other personnel. Our workshop is built in the interlayer of wall panels, which is filled with insulation cotton to prevent the spread of noise.
7. Ventilation design: In order to ensure the normal circulation of air, we use skylights and vents. In addition, we also use ventilation equipment (buildings or unpowered fans) to assist air circulation in the workshop.
8. Waterproof treatment: You may ask, how is the steel structure sealed and waterproof? In the process of our steel structure, the screw mouth is hidden and fixed with a sealing ring, and the external connection parts are welded or sealed to ensure the airtightness and waterproofness of the workshop.
9. Insulation ability: After the waterproof and sound insulation function is designed. We also need to do a good job in winter insulation, in addition to filling the roof and wall panels with insulation interlayers (glass wool, rock wool), the second is to reduce the reflectivity of the roof layer to heat radiation. Fully guarantee the stability of the temperature in the plant. Improve the comfort of the working environment.
Steel Workshop Dimensions
Many workshop owners, when undertaking steel workshop construction, only know the functional details required for a metal workshop, how much equipment, vehicles or items to accommodate. They do not have a clear idea of the exact size of the metal building that should be built. If you are worried about this, then don't worry, the KAFA team of engineers or experts will take the time to listen to your needs, specific applications and future plans. The KAFA team of engineers or experts will take the time to listen to your needs, specific applications and future plans to create the ideal steel workshop building for you.
Regular workshop buildings range from 40-200 feet in length and 20-80 feet in width, see Steel Building Dimensions for more information on choosing the right size steel workshop for you. Or contact one of our engineers online to create the perfect metal workshop building for you.
Metal Workshop Buildings For Sale
KAFA Manufacturing offers various types of metal buildings including warehouses, hangars, agricultural buildings, metal buildings with living quarters, churches and other metal buildings. We build using high grade galvanised stainless steel. Save money by purchasing a metal workshop building from KAFA today. Final prices may vary depending on location and customisation options, please see Steel Building Cost for a preliminary price estimate for your workshop.
Customised steel workshop
Contact our metal building specialists online today, we have experienced experts who can help you size your workshop and design a metal workshop building to suit your current needs. We promise to carry out a free metal building design and discuss the details at a later stage to your satisfaction.